Archive for April, 2007
How Do Children See Race?
by Dr. Marguerite A. Wright
Printed with permission from Dr. Marguerite A. Wright's book I'm Chocolate, You're Vanilla, available here.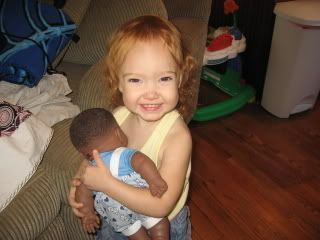 Note: This section, titled "Do White Children See Race Differently?" concludes the first section of Dr. Wright's book, in which she outlines the developmental steps in which young children first perceive skin color and race, and the meanings they attach to these attributes. Dr. Wright has outlined her advice on how to raise black and biracial children (and indeed, all children) with as little racial bias as possible in our race-conscious world, and ends her section on preschoolers with this passage. We highly recommend the book to parents of every ethnic background.
Johnny Lee, a white man who was a former imperial wizard and a founder and recruiter for the Ku Klux Klan Youth Corps, vividly remembers his experience when he was five and saw a black man for the first time. Johnny said to his father, "Look, Daddy, there's a chocolate-covered man." Daddy replied, "No, son, that's a nigger." Lee said that it was at that moment that "the seeds of hatred" were planted that resulted in his life in the Klan, a life he later repudiated.
Unlike young Johnny, white children who have not been sensitized to race ascribe little importance to skin color.
Relatively few studies have been done on how children of other races, including whites, become aware of racial differences. Those available suggest that skin color is not as salient an issue for white children at the early grade-school stage of development as it is for blacks. It is understandable that young white children do not tend to regard skin color as important, since racial prejudice is generally not a factor in their lives.
I am impressed by how little race seems to matter to many of the white young grade-schoolers I encounter. Most of them, from families of friends and acquaintances, attend integrated schools or live in mixed-race communities. Their answers to my question about race are similar to Ian's, a six-year-old white youngster. Ian described the colors of the white and black people as, respectively, "whitish" and "brownish"; he can identify the "Chinese" people and says that he has friends who speak Spanish, although he doesn't have a special name for them. Like black children who do not come from racially obsessed families, Ian did not spontaneously describe or categorize people by skin color or race. Despite my repeated promptings, Ian could not think of a single way, other than skin color, in which blacks and whites differed. Although his level of understanding about how people get their color and his awareness of the existence of different racial groups was similar to that of black children, skin color did not seem as emotional an issue for him as it was for some blacks.
I have heard of Latino and Asian children for whom "race" became an emotional issue when they were subjected to teasing and other mean behavior because of their accents, their limited fluency in English, their different types of dress or the lunches they bring to school. Fortunately, however, most early grade-schoolers, regardless of race, do not seem to have stereotypes of themselves or of people who are different colors. Like preschoolers, they are inclined to see people as individuals rather than as members of a group–color, racial or otherwise. Because of this developmental advantage, these early years are an optimum time for children of different races to get to know each other, before they become aware of the stereotypes that in time will rob them of their racial innocence.
I suspect that children in other countries with a history of racial discrimination develop race awareness in ways similar to American children. Several years ago, I met a lovely white six-year-old at the home of friends of friends while visiting Australia. From the start, she seemed very comfortable with me, unlike a few of the adults, all gracious people, who it seemed to me were trying a little too hard to appear at ease with a black person. Circumstances led to my spending much of the afternoon talking and playing games with her. It wasn't until much time had passed and we rejoined the adults' conversation that she began to ask me about myself.
First, she asked questions about my skin color (like "How did your skin color become brown?" and "Will it change back?"). Next, she asked me about my full lips. Her parents understandably were discomfited by her questions and took turns trying to dissuade her from asking me anything else. Actually, it was quite amusing. The parents were growing increasingly tense trying not to offend me, while their daughter, oblivious to their discomfort, became increasingly more persistent in her questioning. To make matters worse, their guest was not being very cooperative with the parents' efforts to restrain their daughter.
In spite of my assurances that I didn't mind answering the questions, the parents continued to try various strategies to silence their daughter, all the while doing their utmost not to appear anxious. Eventually, they found some pretext to escort her from the room. She had never seen, much less talked to, a black person before, and her curiosity was perfectly normal. I knew that to her, skin color and lip shape were just physical attributes, not the hot potatoes they were to her parents. When we said good-bye later that day, I felt a tinge of sadness; I wondered if I visited her again several years in the future whether she would see my color more than she would see me.
Even at this stage of development, children who have not been exposed to the racial prejudices of their family and society retain the remarkable gift of obliviousness to the social baggage attached to race. Dr. Laura Schlessinger, author and nationally syndicated talk show host, once told a marvelous story on her show about a childhood incident that illustrates this point. When she was a girl, she had a piano teacher named Charlie. Whenever he came to her home to give her piano lessons, he greeted her younger sister by hoisting her on his shoulders. One day, about a year after Laura had been taking lessons, Charlie did not hoist her sister on his shoulders. Instead, he bent down and gave her a candy. Her sister said, "Charlie, your hands are black!" This was the first time her sister had noticed Charlie's skin color despite all the time they has known each other. Although she had been oblivious to his different skin color when she was younger, as she grew older, she was developmentally able to see the difference. Dr. Schlessinger concluded: "Racism is not congenital; it has to be learned."
I love my daughter, she amazes me to no end. All the laughs, smiles and tears that we share are just immeasurable in intensity. Who knew the mother-daughter bond could be so compelling and completing. Trinity is almost 26mo now. She recently started signing the alphabet with me. She loves it, it's one of her favorite games. Next to hiding with Daddy, pretending our fingers are tickle worms, reading and puzzles. She forms the letter "A" (a closed fist) with her hand and says,"Mommy, look at this, A!" Then I'll do "B," she'll copy me and so on. Granted she is only accurately signing about 8 letters, she is still attempting to sign them all. I don't really care so much that she is signing considering she is a hearing child, but the fact that she is so into it reinforces her knowledge and fluency of our alphabet. She knows the alphabet and recognizes many written letters as well. She counts to 10, knows her left foot from right, knows most colors and is learning her shapes rather quickly. It's such an honor to be her educator in these first few delicate years. I can make sure that it is done in a manner that is acceptable to me. I really hate it for mothers who have to put their children in childcare programs and they miss out on these precious first years when our children are so innocent, so impressionable and so much stinkin' fun! Just had to get my brag on LOL

The above photo is my 4yr old nephew, Ryland wearing his 8mo old sister, Raeghan in a Mei Tie.
There are many styles of infant carriers today. There is a design for everyone's specific need and comfort. When my daughter was born I was lucky enough to have known about babywearing, the many types of carriers/slings, and the benefits for both my daughter and myself. In the first month of my daughters life I was adjusting to so much. Lack of sleep, fatigue, muscle soreness and the whole new world of motherhood. I hated the baby bucket (infant carseat that detches that you see so many children behing hauled around in). It was heavy without a child in it and extremely awkward. Wearing my daughter was so convenient and it felt so nice to have her near me all the time. One thing I particularly liked was the style of wrap I used ( a Moby Wrap). It bascially covered her entire body, creating a coccoon/womb type environment for her. She loved it and it kept unwanted touches from friendly strangers to a minimum. I was back in my pre-pregnancy clothes when my daughter was 9 months old. I attribute half of that to breastfeeding, and the other half to babywearing.
Need to get dinner made but the baby wants to be held? Want to go for a walk and there's really not a good path on your dirt road for your stroller? Just gotta run into Wal-Mart for 2 or 3 things and really don't want to lug that carseat out of the car? This is what I am talking about. Maybe Daddy needs to reconnect with your child at the end of his long working day? Oh and my favorite thing of all…hands-free breastfeeding. Yep, I said it, and it's amazing. Ever wanted to just walk around the mall with a fussy baby or a baby that is an olympic all day nurser? Put that baby in a sling, give em' the boob and no one is the wiser!
1. Wearing a baby is convenient.

When we carry a baby in a sling, we can walk around freely and not have to worry about negotiating steps, crowds or narrow aisles with a stroller. Plastic "baby buckets" and removable car seats are heavy and awkward for parents, babies often look uncomfortable, and they are kept at knee level. A sling can block out excess stimuli when breastfeeding a distractible baby, and it allows for discreet nursing in public places. A sling can also double as a changing pad, blanket, or cushion when away from home. I've found my sling especially handy when negotiating busy airports with a small child and several bags!

2. Wearing a baby promotes physical development.

When a baby rides in a sling attached to his mother, he is in tune with the rhythm of her breathing, the sound of her heartbeat, and the movements his mother makes – walking, bending, and reaching. This stimulation helps him to regulate his own physical responses, and exercises his vestibular system, which controls balance. The sling is in essence a "transitional womb" for the new baby, who has not yet learned to control his bodily functions and movements. Research has shown that premature babies who are touched and held gain weight faster and are healthier than babies who are not1. Mechanical swings and other holding devices do not provide these same benefits.

3. Babies worn in slings are happier.

Studies have shown that the more babies are held, the less they cry and fuss2. In indigenous cultures where baby-wearing is the norm, babies often cry for only a few minutes a day – in contrast to Western babies, who often cry for hours each day. Crying is exhausting for both the baby and his parents, and may cause long-term damage as the baby's developing brain is continually flooded with stress hormones.3 Babies who do not need to spend their energy on crying are calmly observing and actively learning about their environment. Baby-wearing is especially useful for colicky or "high need" babies, who are far happier being worn, but placid, content babies and children will also benefit greatly from the warmth and security of being held close.

4. Baby-wearing is healthy for you!

It can be challenging for new mothers to find time to exercise, but if you carry your baby around with you most of the day or go for a brisk walk with your baby in her sling, you will enjoy the dual benefits of walking and "weightlifting". A long walk in the sling is also an excellent way to help a tired but over-stimulated child fall asleep.

..>..>

..>..>..>..>

5. Toddlers appreciate the security of the sling.

Slings are usually associated with infants, but they can be very useful for toddlers as well; most slings accommodate children up to 35 or 40 pounds. The world can be a scary place for toddlers, who feel more confident when they can retreat to the security of the sling when they need to do so. Toddlers often become over-stimulated, and a ride in the sling helps to soothe and comfort them before (or after!) a "melt-down" occurs. It can be very helpful in places like the zoo, aquarium, or museum, where a small child in a stroller would miss many of the exhibits.

6. Baby-wearing helps you and your baby to communicate with each other.

The more confidence we have in our parenting, the more we can relax and enjoy our children. A large part of feeling confident as a parent is the ability to read our baby's cues successfully. When we hold our baby close in a sling, we become finely attuned to his gestures and facial expressions. Many baby-wearing parents report that they have never learned to distinguish their baby's cries – because their babies are able to communicate effectively without crying! Every time a baby is able to let us know that she is hungry, bored or wet without having to cry, her trust in us is increased, her learning is enhanced, and our own confidence is reinforced. This cycle of positive interaction enhances the mutual attachment between parent and child, and makes life more enjoyable for everyone.

7. Slings are a bonding tool for fathers, grandparents, and other caregivers.

Slings are a useful tool for every adult in a baby's life. It makes me smile when I see a new father going for a walk with his baby in a sling. The baby is becoming used to his voice, heartbeat, movements and facial expressions, and the two are forging a strong attachment of their own. Fathers don't have the automatic head-start on bonding that comes with gestation, but that doesn't mean they can't make up for this once their baby is born. The same goes for babysitters, grandparents and all other caregivers. Cuddling up close in the sling is a wonderful way to get to know the baby in your life, and for the baby to get to know you!

8. Slings are a safe place for a child to be.

Instead of running loose in crowded or dangerous places, a child in a sling is held safe and secure right next to your body. Slings also provide emotional safety when needed, so that children can venture into the world and become independent at their own pace.

9. Slings are economical.

Slings cost far less than strollers, front-carriers or backpacks. Many mothers consider the sling to be one of their most useful and economical possessions. Inexpensive used slings can be found in consignment and thrift stores, and new ones can be bought for about $25 -$50 (U.S.) – not bad for an item many parents use daily for two years or more! A sling can also be sewn for the price of a length of cotton, some rings and batting; sling patterns are available.

10. Baby-wearing is fun.

Who doesn't love to cuddle a precious little baby? And when your baby is older, having her in the sling makes conversations easier and allows you to observe her reactions to the wonders of the world around her. It's also fun for baby, because when she is up at eye level, other adults notice and interact with her more. Your child will feel more a part of your life when she is in her sling, and you will find yourself becoming more and more enchanted with this special little person.
| | |
| --- | --- |
| 1 | "Current knowledge about skin-to-skin (kangaroo) care for pre-term infants". J Perinatol. 1991 Sep;11(3):216-26. |
| 2 | Hunziker, U.A. and R.G. Barr (1986). "Increased carrying reduces infant crying: A randomized controlled trial". Pediatrics. 7:641-648. |
| 3 | Powell, A. "Harvard Researchers Say Children Need Touching and Attention", Harvard Gazette. |
Categories:

Uncategorized
babywearing, bonding, carseat, convenience, economical, infant carrier, physical development, slings, toddlers, weight loss, wraps